This Autumn/Winter I've been wanting all the drama in my wardrobe. I'm actually focusing any drama into my clothes so that I don't have to live it. Of course, there's daily drama and definitely drama in any workplace but you get what I'm saying.
I have two unblogged mega scarves I want to show you one of these days. I swear I'll be doing that soon. In the meantime, I am craving more dramatic coats. My Lolita Spearmint coats (the more Autumny animal print on and my short blue wool one) are the kind of drama I want. Something big collared or just gigantic in general. Read into it if you like. I just want to be warm this winter.
First I thought I wanted ALL THE CAPES but then as I searched for cape patterns I remembered the two that are in my closet that hardly get used. Mental note: Use capes. Granted they were simple capes, so mayhaps more flair added would make me happy.
I searched and searched and didn't quite find what I wanted. Yes, I know. I should just sit down and draw out what I want and make it. All in good time.
After the capescapade, I thought I really just want an oversized coat I don't have to fit (fitting takes time, of which I have very little) so why not something like a cocoon coat!
From Daks A/W 2012
Does it look too much like a snuggie?
uh oh.
Scary thing is that I still want to make a cocoon coat! So, I started looking at patterns and remembered…
The cloud cape by Decades of Style. Gorgeous and I will make this one day. But not today.
Not a huge coat but an awesome dramatic collar by burdastyle
Not fitted so I could get away with a quick muslin and possibly no fitting…but, not now.
Lekala has this belted cape that you can just draft at home. I like the half circle sleeves but not the kind of drama I was dreaming up.
I did like this gigantic swallow-me-whole cocoon coat found on Etsy by MixMind Design.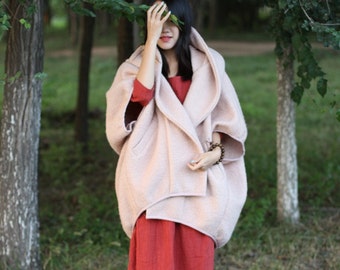 Or maybe it was the memory of Oona's version of the Ralph Pink Patterns cocoon coat
Yes, I want her dress and her hair but I think I just start my single white female with making up this coat.
So, here I am, typing and printing the Ralph Pink Patterns Cocoon Coat and wondering what I have in my stash since I'm forcing myself into early retirement with a fabric diet. I know! I said the D word. What will become of me?? I hope I'll get inspired like LadyKatza said she did on Twitter- I think it was you.
Anywhooo! Off to tape together 65 pages! *faints*